The two «Norwegian» referees arrived safely to Sodertalje to attend the unofficial Nordic Championship.
27th of March was the first day of the clinic. «Welcome speach» started at 18:00 with the host, Lahdo Sharro. He was presenting all the instructors in front of 140 entusiastic referees.
It is worth mentioning that this year, 40 female officials are attending Scania Camp and the Women Referee Clinic. Alison Muir from England, Åsa Johansson from Sweden, Chantal Julien from France and Ilona Kucerova from Czech Republic are mainly responsible as instructors for the Women Referee Clinic.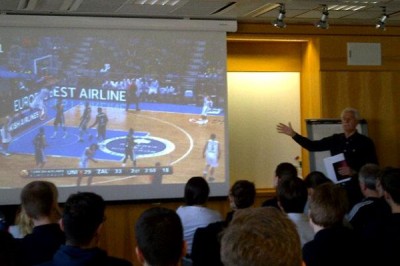 Other instructors at the camp are the following:
Director of Euroleague referees Costas Rigas, Romualdas Brazauskas from Lithuania, Olegs Latisevs from Latvia, Mick Howell from England, Alex Syryca from Belarus, Alexander Fassen from Holland, Michel Glod from Luxembourg, Gjorgi Piperkov from Macedonia, Krzysztof Koralewski from Poland, Apostolos Kalpakas and Lars Klaar from Sweden and Buluc Yalcin from Turkey.
The participants had lectures with Costas Rigas and Lars Klaar, as well as with Romualdas Brazauskas during Wednesday and Thursday. We all had a brief introduction to the pre-game conference, three person officiating, accent being on areas of coverage by lead, center and trail.
«The purpose of a good pre-game conference is to understand how officials can help each other«
– R. Brazauskas
First day, after deviding the referee crowd into 14 groups, we received a rules test and English test from one of the instructors. Each group had 12 hours to answer the questions.
Friday is the first day for the games.
It is past midnight here in Södertälje… So Tennaz and Vicky are logging off now..:)
To be continued…