This year´s clinic for FIBA Referee Candidates in Europe
was organised in Sakarya, Turkey between February 1st to 9th. Sakarya
is a city and province of the same name in Turkey located on the coast of the Black
Sea.
12 national teams from Argentina, France, Greece,
Montenegro, Slovenia, Turkey, China, Germany, Latvia, Serbia, Sweden, Ukraine, as
well as 30 referee candidates (representing 29 countries) were ready for the
annual TBF International U16 Tournament for Men.
Participants at the clinic arrived on the 31st of
January. A 2 hour journey between Istanbul and Sakarya ended up in 3,5 hour,
due to an unbelievable traffic jam.
Once arrived to the hotel it was time to meet the
candidates from other countries, so as some of the instructors. Alan Richardson
was the one greeting us in the lobby. It was nice to recognize a lot of known
faces from Scania Cup, Alan Richardson's CanDo Summer Camp and also the
candidate from my home country, Romania.
Instructors at the clinic were: Miguel Betancor (Head of
Operations), Alan Richardson (from Fiba Europe Referee Department), Richard
Stokes (Head of Fiba Europes Competitions and Referee Department) and Chantal
Julien, FIBA instructor from France. During the week we also had a presentation
by the well known former Euroleague top referee, Carl Jungebrand, as well as
from FIBA Europe's Secretary General, Kamil Novak.
The next morning (01.02.13), starting from 08:45, 30
referees were ready for the obligatory fitness test which was held in the main
gym of Ataturk Arena. Everybody succesfully passed.
Shortly after arriving back to the hotel we had an
opening presentation, introductions and orientation, so as the nominations for
Day 1.
I was nominated to referee Slovenia vs Greece in Lufti
Yaman gym together with Kfir Mualem from Israel and Alexander Romanov from
Russia. It was a great game, we had very
good teamwork. (I could strongly state that «teamwork» was the word
we heard the most during this clinic.) Sometimes we had a feeling that
instructors were testing our «team spirit», either in a direct or
indirect way. We helped each other as a group, and nobody failed this
«exam».
There were 6 games every day starting from 15:00, 3 in
Ataturk Arena and 3 in Lufti Yaman Arena, just some minutes walk from the main
hall. All the games were filmed and the instructors also made short teaching
clips during the game.
There was no direct feedback after the officiated games,
but there was possibility to ask for one.
Our mornings started with a 10 o'clock lecture. The
instructors presented some clips from the games the previous day, pointing out
some things they thought we should work on for the next game.
Feedback from the first day was mainly regarding to
mechanics with an interesting comparison to lead and trail official: lead is
the «pointguard» of the officiating team and trail is the best
defensive «player», they told us.
Miguel Betancor analyzed some play situations, and his
main feedback to us was regarding our attitude on the court (showing authority,
not power), dead ball officiating, game management, teamwork and communication.
12 referees were «stand-by» the first day so
they got the priority to officiate the next day. Some of us had the day off.
The next morning (Day 3), as usual, instructors started
with feedback from the teaching clips of Day 2: criteria for general contacts-
not calling marginal ones which have no effect on the game (or on: SBRQ: speed,
balance, rhythm, quickness). It was mentioned the criteria for
unsportsmanlike/»tactical» fouls as well.
Day 4's lecture started with a review of game clips and
it continued with Alan Richardson presentation about managing mistakes, the
important role of self control and concentration.
Nominations for this day came, and I was really happy to
officiate Argentina against Germany together with our collegue from Sweden,
Saulius Racys and with Milosav Kaludjerovic from Montenegro. We were almost
100% sure that there will be «some» clips shown the next morning,
considering the intensity of the game.
So did day 5s meeting start. All the clips, they took out
from games, were to make us understand their point of view regarding to
different situations, mechanics, criteria used in the game, and learn from
(your) others mistake.
Later on we had presentations by Carl Jungebrand and Alan
Richardson, about how officials should keep their standards game after game,
with a best state of mind (Trustful, decisive and tranquil). Also how important
game management is, especially in dead ball situations.
«Management is doing things right, leadership is
doing the right things.» – Peter Drucker.
Wednesday, all instructors, officials, organizers and
teams had the day off. We spent a nice afternoon beside a lake nearby with a
delicious barbeque. We also had the opportunity for a little
«tourist-tour» in the city center.
Since I didn't referee on Tuesday, I was hoping to get
the chance to do it on Thursday, when the quarter finals began. Morning meeting
started with a short presentation about teamwork and «Nunn's nine play
situations for lead, trail and center».
Nominations for the quarter finals came. I got the chance
to referee Latvia vs. Germany with Boris Krejic from Slovenia and Vasiliki Tsaroucha
from Greece, a game where Germany was consistently dominating and at the end
won by 22 points.
Friday was another test day for the FIBA-candidates, with
English and rules test on our «breakfast menu». I felt confident that
both of them went ok.
After the tests and the review of the teaching clips from
the previous day, we had a presentation by Miguel Betancor, «Hardware vs
Software». Personally I really liked this lecture. He talked about all the
qualities an official should have, how we should educate ourselves and our
whistle continuously.
I personally didn't have any game that day, but we all
stayed in the gym to watch our colleagues in the semi-finals. Later that day we
got to know the nominations for the next day finals.
It was probably the most rewarding feeling from the whole
clinic to see my name listed among the officials to ref the final between
Greece and Serbia. Fernando Calatrava Cuevas from Spain and Manuel Mazzoni from
Italy were my co-officials.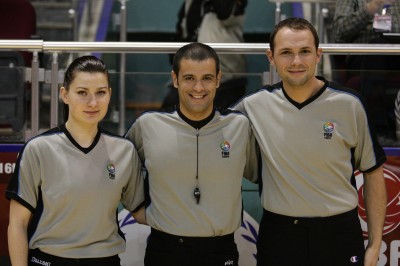 I could say that for me it was the best game of the
tournament. Great collegues=great game. Simple as it was. 🙂
After the game, all our colleagues came into the locker
room to congratulate us. This was probably THE moment of the (post)game.
The next day was departure day for all of us, so it was
time for a little social event in the evening. With Alan Richardson, if not
karaoke, singing is on the «playlist». Everybody sang in his/her
mother tongue, and for sure it was the best way to end an intense, stressful
tournament/clinic in Turkey.
Last but not least, I would like to thank DK, NBBF and
all the people that helped me ever since I started officiating in Norway. The list
is very long, I have to say… 🙂
It was an honor to be there! And a great triumph to have passed as a FIBA-referee. 🙂