The final for '95 girls started at 12:30 p.m. in Taljehallen. The local team, SBBK, met Hjemly from Denmark. The gym was quite crowded, so it was a nice atmosphere to start the game.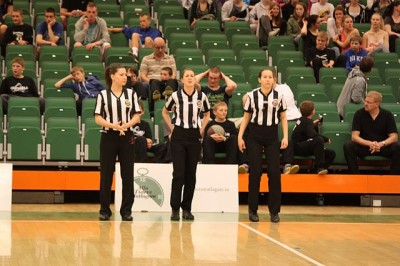 The referee crew for this game was: Kate Webb from England as «crew-chief», Irina Konan from Belarus and me. Luigi Lamonica was observing the game.

With a preventive communication with players and coaches we had a well controlled game I think. We had good team-work, not that many mistakes in mechanics but the most important thing was that we had fun.

Final score: SBBK-Hjemly 49-44. (I period:15-12; II:12-11; III:9-12; IV:13-9).
Feedback from Luigi was more regarded to the «lead» position. But, overall he said we did a good job.
Organizers, coaches and instructors thought the performance of the referees at this tournament probably was the best they had seen so far.
Alison Muir, Ilona Kucerova and Åsa Johansson, leaders for the «women referee clinic», made this tournament special for us girls.
Full of energy and motivation I'm looking forward to Scania Cup 2012!
Mvh,
V.